The second tab available within the Payments section is called "Events", where you can view the list of events containing all the payment statuses in chronological order.
The "Events" tab contains the following information:
ID ORDER
The identification number of the order.
AMOUNT
The authorized payment amount.
EVENT
A specific event related to an amount. 
PAYMENT ID
The identification number of the payment. 
TOTAL FEES
The total fees applied in the timeframe.
CHANNEL
The payment reference channel.
Additional information, which can be found in the columns of the event list, divided by categories, can be selected and added to the list by clicking on the pencil icon at the top right of the page.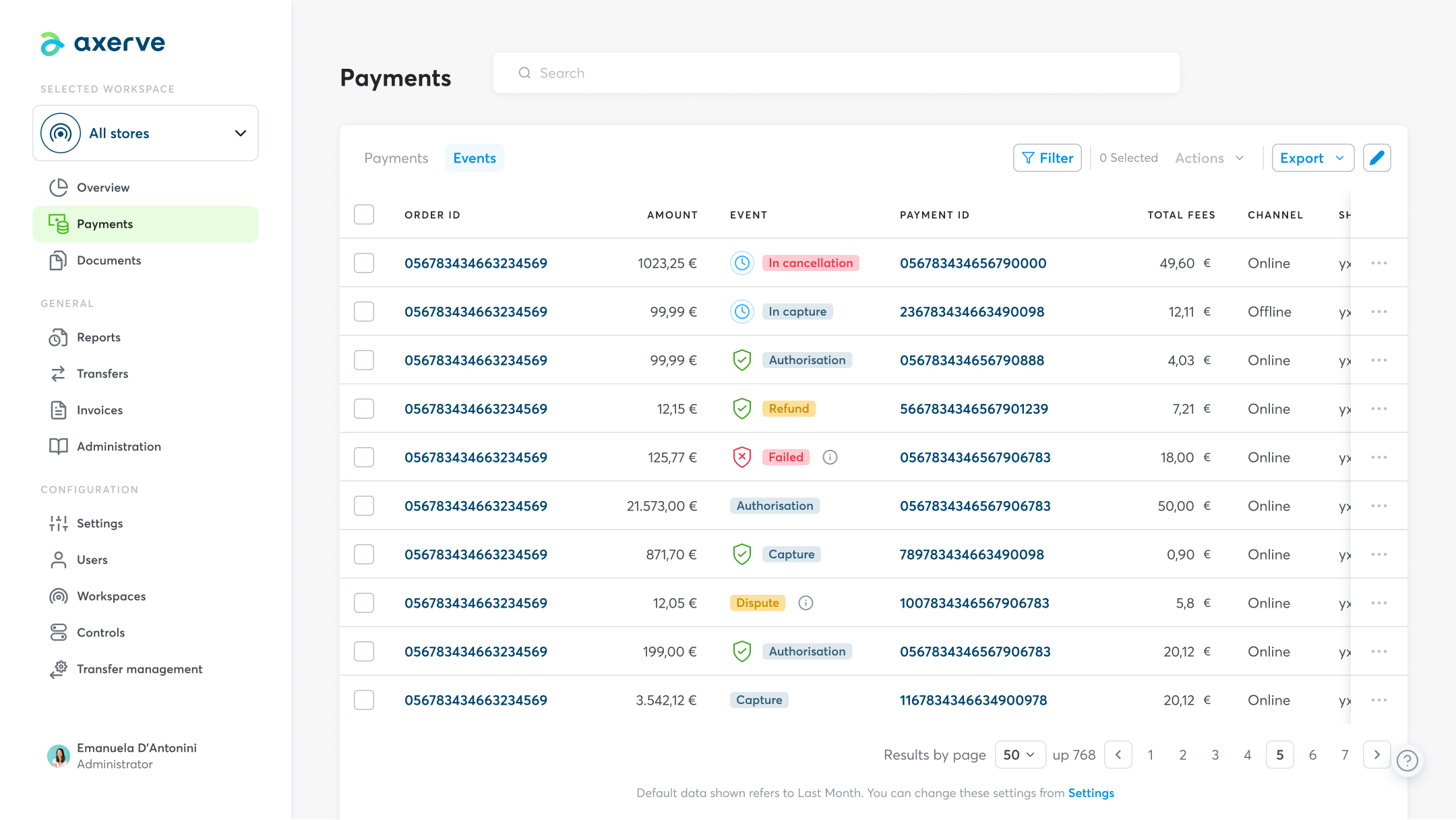 By clicking on the 'Filter' button, you can access a window in which you can choose any filters relating to Events.  
Specifically, it is possible to define:
Circuit
This filter allows you to select the circuits and/or any alternative payment systems to be displayed. 
Date Type
Allows you to define the time frame for the events concerned and also to select the following date types: 
 - Event date
- Transfer date
- Transfer value date
- Authentication date
Axerve Guaranteed Payment 
If the fraud prevention service Axerve Guaranteed Payment has been activated, you can choose to display only those payments authorised or blocked by the service (identified by differently coloured badges).
Amount interval 
The platform allows you to choose a range of payment amount to be displayed.
Method 
You can choose to display only specific payment methods, as shown in the image.
Custom filters 
The Dashboard includes the possibility of saving customised filters (presets) that can then be chosen from the list, thus avoiding having to specify the relevant criteria each time.