The generational comparison bibliography is full of contributions that go into detail on all of the relative aspects. An analysis of snapshots on spending capacity, purchasing needs and familiarity with digital tools also makes it possible to develop a comparison in terms of payments.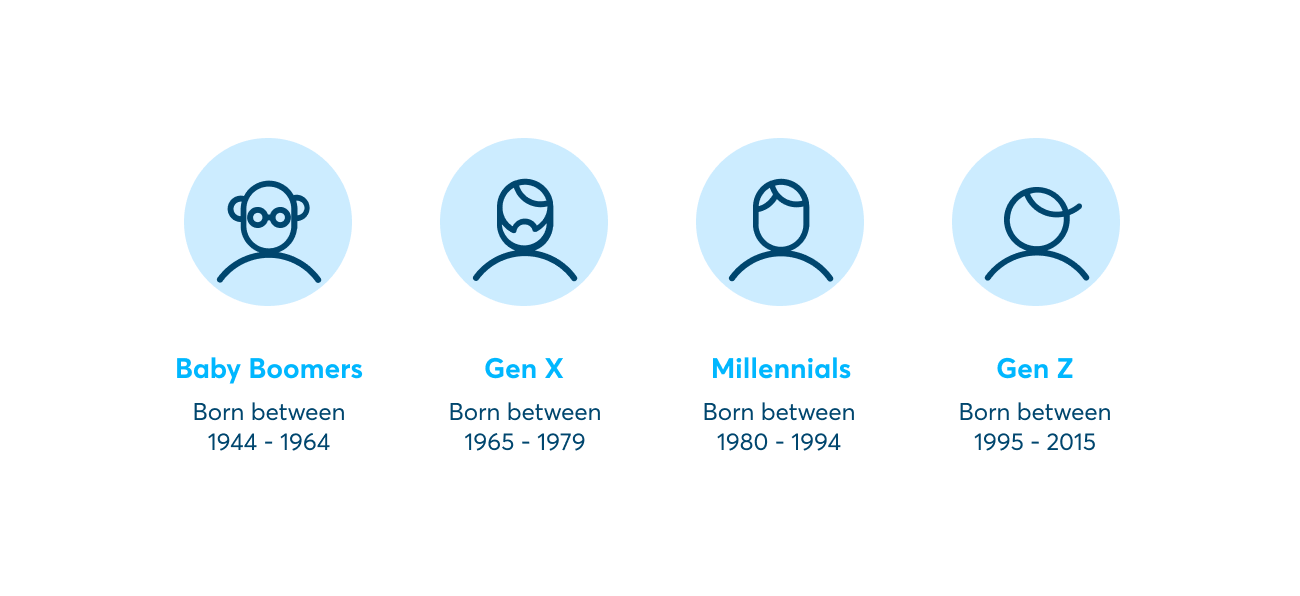 How spending habits change from Baby Boomers to Generation Z
Baby Boomers
People belonging to this generation were born indicatively between the second half of the 1940s and the early 1960s.
They represent the most economically stable generation with the greatest spending capacity. They enjoyed an economic boom that improved their living standards over time and enabled them to accumulate savings.
They are not very exposed in terms of debt, they have financial investments and insurance coverage; they often do not use a smartphone or, if they have one, they only use it for calls, text messages and alternative messaging platforms.
They don't have computers, but at times they have a tablet that they use sporadically to browse online and read emails; they don't purchase online and they don't consume paid digital services.
Baby Boomers privilege more traditional forms of payment. Cash, cheques and ATM cards are those most used for ordinary purchases, alongside bank transfers, typically ordered in the branch, and specific forms for the payment of taxes and duties in general, such as the F24, MAVs and RAVs.
Therefore it comes as no surprise that baby boomers are the age group who makes the least amount of contactless purchases via their mobile¹.
Generation X
Those in this age range are thirty to roughly fifty years of age and were born between the second half of the 1960s and the early 1980s.
Compared to the previous generation, their average level of education is higher, they do not have as many financial resources available and thus they make more frequent recourse to credit.
They remember what analogue means, but they have adapted without difficulty to digital instruments: they have computers, a smartphone and maybe even a tablet. They regularly access the web, also with their mobile phones, they are active users of social media, they buy online and they are registered with one or more paid digital services, usually video or audio streaming.
The payment methods most used by this generation are closer to digital, although they trust more traditional methods more. They use cheques less, they make bank transfers only if necessary and almost always online; they frequently pay with credit and debit cards for in-store and online purchases, and they often have a PayPal account, while they less frequently have the latest generation e-wallets.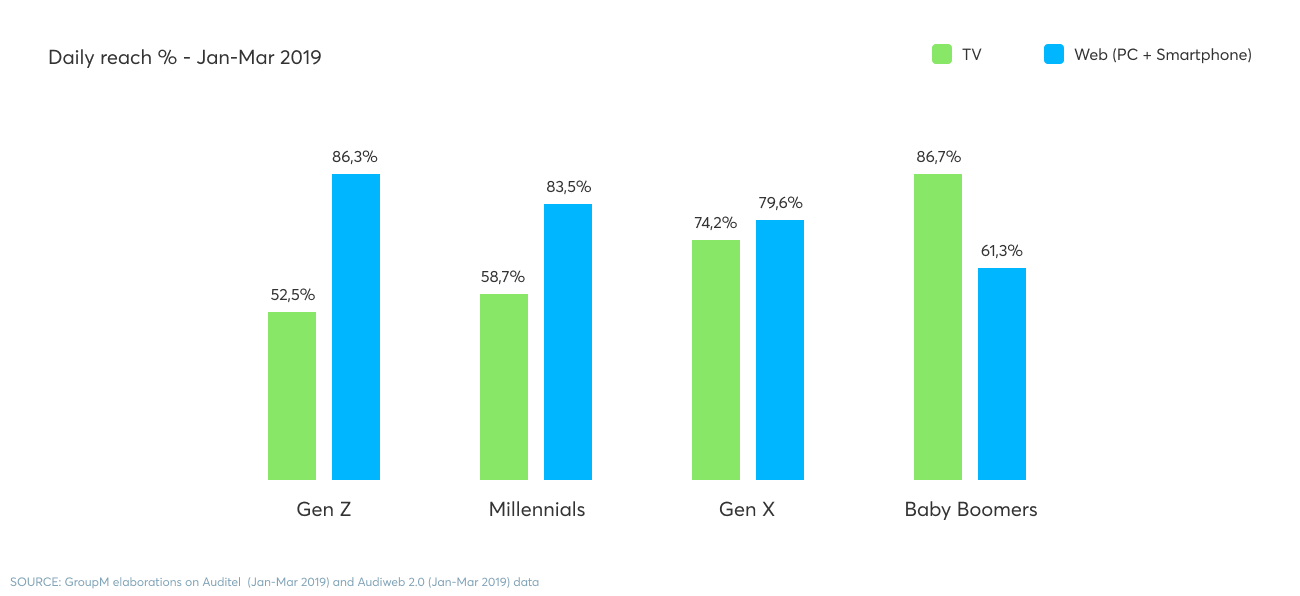 Millennials
The generation born between the early 1980s and the second half of the 1990s is labelled in different ways: Millennials, Generation Y and the Net Generation. Millennials are thirty years old on average, many of them have just recently started working and they have a more indifferent relationship with possessions. For them, benefitting from the advantages of a specific good or service counts more. Their daily life is divided between the analogue and the digital: they communicate primarily on online platforms, from which they also move with a certain frequency as needed and depending on current trends which, compared to the past, have a shorter lifespan. Almost all of them use smartphones and they regularly consume on demand content, especially on streaming platforms: channel flicking is not even part of their vocabulary.
They don't know what cheques are, or if they do they have no idea how they work, simply because they don't need them. They also use cards, with a particular preference for prepaid cards, which the previous generation typically uses only for online purchases instead. They almost always have a PayPal account, but they often easily have an account on P2P payment apps or cards with IBANs, like HYPE, as well. They are the generation of users most coveted by Fintech startups which are being founded, for example, in the areas of microcredit, insurtech and new forms of microsavings.
Generation Z
What is commonly called "Gen Z" is the youngest generation of those we have analysed. Those born between the end of the 1990s to today - actually some identify a Generation Alpha as well, consisting of people born starting in 2010 - access the web every day, multiple times a day. If they watch TV, a device which is surely amongst their least favourite, they do it primarily in dual screen mode, i.e., with a smartphone or tablet in hand, and in any event they consume on demand content; don't even talk to them about broadcast TV because they rarely know what it is. Their spending capacity often depends on that of their household, also because they are able to access the world of work later on average.
Although they have more limited requirements in terms of spending, Generation Z is that which many new players in the financial world consider their text target. The payment methods that are more suited to these cases are prepaid cards and digital wallets like HYPE, which allow for monitoring by parents, especially when used by minors. The possibility of having functions that regulate the credit available on the card, thanks to real time transfers and top-ups, simultaneously meets the needs of parents to keep spending under control, and that of children to begin having their own independence, including in terms of payments.
According to a 2020 study², in the UK Generation Z is the consumer group that adjusted the most to digital payment methods, with nearly half of those surveyed stating they make payments using digital or mobile wallets; compared to 32 percent for the Millennials, and 28 percent for Gen X.
Generation Z and Millennials: Pre- and Post-Pandemic Comparison
According to a study by Astound Commerce published in 2021³, the post-pandemic period has seen significant changes in the use of new technologies and services at a global level, with significant differences in some cases between Generation Z and Millennials.
While contactless payments have continued growing at a similar pace, registering a growth of 22% for Generation Z and 24% for Millennials, other habits have highlighted substantial differences between the two groups in question.
Social media purchases, for example, fell 5% compared to the pre-pandemic period for those born in the early 1980s, while they increased 24% for Gen Z. Mobile purchases increased 13% for the younger generation and remained almost unchanged for the previous one. App purchases, on the other hand, increased by 15% for Millennials and dropped by 3% for those born at the turn of the 2000s.
Just as contactless payments have grown indiscriminately, in-store purchases have decreased by 7% (Millennial) and 5% (Gen Z), probably thanks to the lockdowns that have affected the whole world. Even the "click and collect" formula, aka the online purchase formula with in-store pickup, saw a sharp reduction: -13% for Millennials, reaching a -26% for those born at the beginning of the century.
Purchases via the IoT, Internet of Things, are part of the habits with the greatest gap between the two generations under consideration: Millennials have increased purchases via smart speakers by 2% while the next generation has reduced them by 34%.
In the context of the most recent payment methods, the preference for the Buy Now Pay Later payment formula - i.e. online payments in installments - has grown for both clusters involved in the research, although with different numbers: + 27% for Millennials and + 7% for Generation Z.
A precise analysis of customers and their habits makes it possible to capture and even anticipate their needs. Today, Axerve allows you to integrate up to two hundred and fifty alternative payment systems, to meet the needs of every generation we have analysed in this post.
Contact us for more details and to decide together which instruments can help you increase sales and boost customer loyalty.